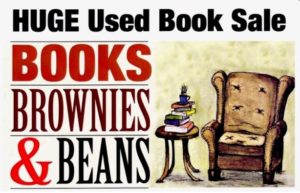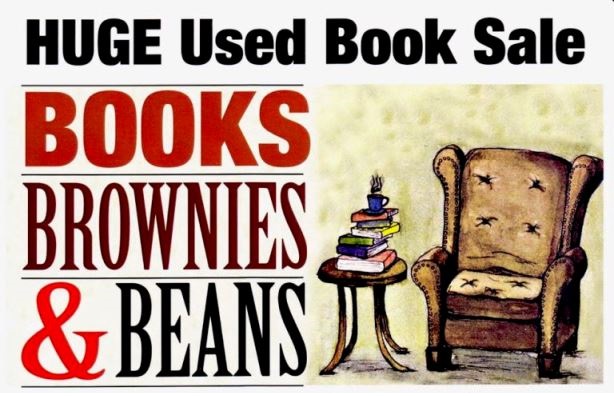 It's back! On November 5, OUUC's famous Books, Brownies & Beans in-person used book sale returns. Once again you can come and browse the amazing collection of books while you listen to music and enjoy homemade brownies and delicious coffee. Mark your calendars!
While this major fundraiser has historically benefited homeless organizations, this year we are aligning our giving with OUUC's three focus areas. Benefiting from the book sale are Pizza Klatch (intersectional anti-racist/LGBTQ support in schools), Thurston County Food Bank "ForKids: Weekend Backpacks" program (weekend food for homeless and food-insecure kids and families), and Thurston Climate Action Team (environmental justice).
To make this important fundraiser a success, we need books! Clean out your bookshelves, ask your neighbors, post on social media, and bring us your gently used books, CDs, and DVDs. OUUC's building is open Sunday. 9:00 am-12:00 pm, Tuesday 10:00 am-2:00 pm, and Thursday 10:00 am-2:00 pm. We will accept donations until Tuesday, November 1. If it's more convenient, you can drop off donations at Susan Dodson's covered center front deck.
Book sorting has already begun! As always, we need LOTS of volunteers.
Sally Brennand is organizing book sorting in Classroom #4. Please come weekly or just drop in at any of the times listed below. No experience is necessary. We receive amazing books and you can plot your November 5th purchases.
– Sunday 9:00-10:00 am
– Sunday 11:30 am-12:30 pm
– Tuesday 6:00-8:00 pm
– Thursday 9:00-11:00 am
Volunteers needed:
There is something for everyone to do: in addition to collecting and sorting books, we need help spreading the word about the upcoming sale. The week of the sale, we will need volunteers to bag up the online purchases, bake brownies, and transform OUUC into a bookstore/bistro. On Saturday, November 5 we need greeters, bookroom monitors, bistro servers, cashiers, and of course, help to get everything back in place for Sunday morning worship.
Please contact Ryan Baye to volunteer.
For more information about the sale and volunteer opportunities, see https://www.ouuc.org/giving/fundraising-events/books/ Questions? Contact one of the event co-chairs, Christine Parke and Sally Alhadeff.
THANK YOU for your help with this important, fun event that brings us books to read and helps strengthen our wider community!