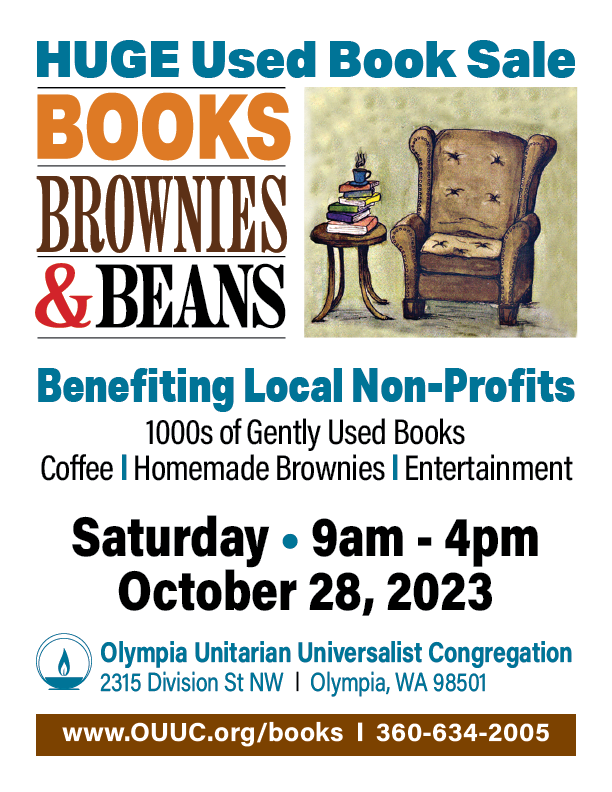 OUUC holds two community used book sale events each year to raise funds for partner organizations working towards a more loving, just and healthy world. Our 2023 sales will benefit Interfaith Works, ASHHO Cultural Community Center, and OlyEcosystems.
Books Brownies & Beans (BBB) in-person sale – on the fourth Saturday in October at Olympia Unitarian Universalist Congregation, 2315 Division St NW, Olympia, WA 98502. Our 2023 BBB sale will open at 9am on Saturday, October 28. Come and browse the amazing collection of books while you listen to music and enjoy homemade brownies and delicious coffee. Mark your calendars!
Summer UU Reading Fun (SUURF) online bookstore for Olympia-area shoppers – open for six days in mid-June at books-ouuc.com. Our 2023 SUURF Bookstore closed Sunday, June 18 and will open again in mid- June 2024. While the virtual store is open, you can shop and pay online, then pick up your combined purchases at OUUC the following week. Meanwhile, you can sign up at books-ouuc.com to receive OUUC community books sale updates.
BOOK DONATIONS
Donations of gently used books and audiobooks for OUUC's October 28 Books Brownies & Beans sale are welcome from Sunday, September 10th through Sunday, October 22 at whichever of the following locations is most convenient for you:
OUUC, RE Classroom 5 whenever the building is open (please do not leave books outside or in the hallways at OUUC).
OR
To the covered center section of Susan Dodson's front deck during any daylight hours. Susan's address is in the OUUC directory, or you can email Susan at books.ouuc@gmail.com for more information.
Volunteer Opportunities
Follow the SignUp Genius link to sign up for the Books, Brownies and Beans volunteer opportunities. Share the link with friends who are new to the area or maybe new to OUUC. This is a great event that supports wonderful organizations in our community, and it is lots of fun too. Who wouldn't enjoy a cozy Saturday in October with music playing, coffee and brownies served, and the company of booklovers?
We will be sorting books beginning September 10th through October 22nd on Sundays (9-10am and 11:30-12:30pm), Tuesdays (6-8pm), and Thursdays (9-11am). You can also sign up for the event set-up day on the 26th, the volunteer appreciation pre-sale on the 27th and of course the big event on October 28th.
THANK YOU for your support and help with these fun, important events that bring us books to read and help strengthen our wider community!