by Rev. Mary Gear
Part of my growing up in Michigan involved regular trips up north to the Mackinac Bridge. It is a 5-mile-long suspension bridge that connects the upper and lower peninsulas of Michigan. You can see a photo of the "Mighty Mac" below or through the bridge-cam here.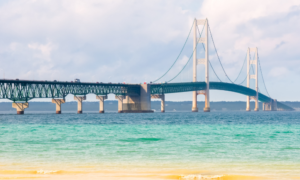 For those who live near the bridge, it is a regular occurrence to check the weather to see if the winds are so high that the bridge will be closed; if the winds are too strong, the bridge sways so much that cars are in danger of being blown over the side into the deep waters where Lake Michigan and Lake Huron meet. In my life so far, I've crossed the bridge in a car, on foot, and on a bike. One trip by car was the most exciting and memorable since they closed the bridge shortly after we crossed.  
The spiritual theme for the month of June is "bridge," part of the OUUC mission to welcome and wonder, embrace and empower, bridge and become. What I find interesting about bridges is that they are all about stress. Suspension bridges, like Mighty Mac, rely on the tension of pulling to make them work. Arch bridges, like the Stone Arch Bridge in Minneapolis, rely on compression to keep them standing. Tension and compression are both kinds of stress required to make a bridge do what it is intended to do. 
We often think of bridges as comforting things as things that connect, that span a gulf, that make two things one. Isn't it interesting that it requires stress to do so?  
When we say that part of the OUUC mission is to bridge, I believe it means that we can expect some stress—tension or compression. Spanning differences of any kind requires intention and effort. May we have the courage and fortitude to live with the tension that our mission calls us to.  
Blessings on your week. 
Rev. Mary