We have a variety of programs for adults planned this year! Join us for Small Group Ministry, Book Groups, Sunday Forums, and Classes.
Registration for classes is open to all members and friends of OUUC and members of the larger community. To help us keep these offerings sustainable, we suggest participants donate $0-$10 per class meeting. Don't bring cash to class, either write a check or make a donation online.
Upcoming Classes: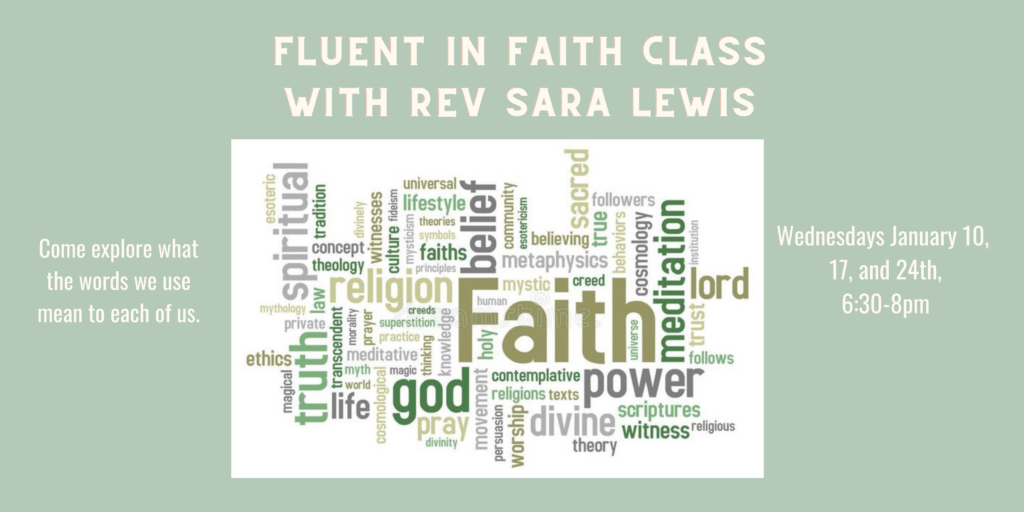 Fluent in Faith, Led by Rev Sara Lewis
3 sessions, Wednesdays 6:30-8pm
January 10, 17, and 24th
Do you love words like Worship, god, and grace, or do you struggle with them? Do you just find the words confusing? Join this class to explore these and more words, to find and make meaning together as we dive into the language of faith.
Class will be on Zoom (good for those dark and cold evenings of January!)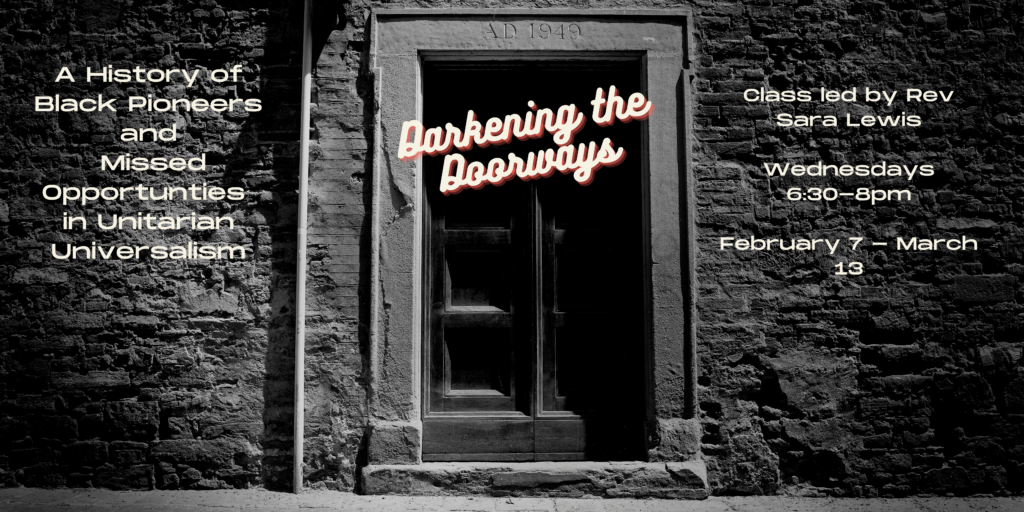 Darkening the Doorways
Led by Rev Sara Lewis
6 sessions, Feb. 7th- to March 13th.
On zoom, 6:30-8pm
While the history of Unitarian Universalism is mostly white, African Americans have always been part of our faith traditions as well. Come explore questions of race in this denomination as we read and discuss Darkening the Doorways, a history written by Mark Morrison Reed.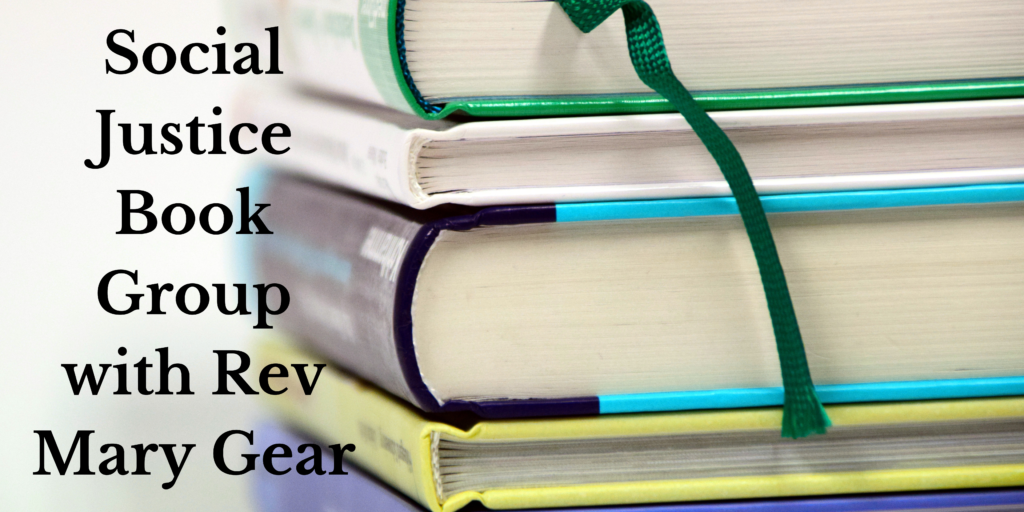 Registration is Now Closed
Are you interested in learning more about social justice and how you can make a difference? Join Rev. Mary for a social justice book study from September 2023 through May 2024. We'll explore the three areas of OUUC Faith in Action focus: economic justice, climate justice and racial justice, as well as threats to our democracy as we head into an election year. Rev. Mary has curated three books and a recorded lecture that are sure to provoke deep discussion and challenge us to action. The book group will meet onsite at OUUC every second Thursday evening of the month at 6:30 pm starting on September 14.
Books will be:
Decolonizing Wealth: Indigenous Wisdom to Heal Divides and Restore Balance by Edgar Villanueva
Tears We Cannot Stop: A Sermon to White America by Michael Eric Dyson
Not Too Late: Changing the Climate Story from Despair to Possibility edited by Rebecca Solnit and Thelma Young Lutunatabua
"My Little Pony Was Right: Reflections of Fascisms Without and Within", 203rd Berry Street Essay delivered by The Reverend Cecilia Kingman
No reading needed for the first session.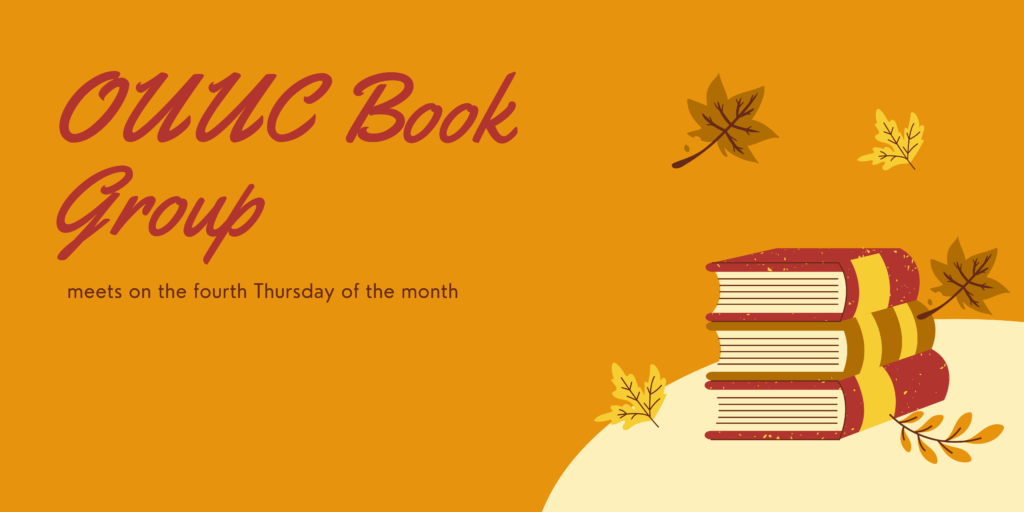 OUUC Book Group 2023-2024
Contact Rev Sara (dre@ouuc.org) or Frances Tanaka for information on how to join the Book Group
Meets on the Fourth Tuesday of the Month
10am hosted at Frances Tanaka's home and 6:30pm on Zoom
OUUC BOOK GROUP PDF List 2023-2024
September The Covenant of Water by Abraham Verghese
Set in Kerala, South India spanning the years 1900-1977 this novel follows three generations of a family seeking the answers to a strange secret.
October Scattered All Over the Earth by Yoko Tawada
In the future Japan has disappeared beneath the ocean and Hiruko finds herself in Scandinavia teaching immigrant children her invented language Panska (Pan-Scandinavian) which will help them communicate with people from four different countries there.
November Tomorrow and Tomorrow and Tomorrow by Gabrielle Zevin
Sam and Sadie, two college friends, often in love, but never lovers, become creative friends in the dazzling world of video game design.
January Deep River: A Novel by Karl Marlantes
Three Finish siblings flee their country because of Russian oppression in the early 1900's and settle in a southwest Washington logging community near the Columbia River.
February Stealing by Margaret Verble
In the 1950's Midwest after her Cherokee mother has died and her father has gone to prison, Kit Crockett at age 12 is sent to a boarding school for Cherokee, Chicksaw and Comanche girls.
March On Call in the Arctic: A Doctor's Pursuit of Life, Love, and Miracles in the Alaskan Frontier by Thomas J. Sims
The memoir of a young doctor who goes to Alaska, working for the US Public Health Service instead of being drafted as a Mash surgeon in Vietnam.
April The Last Garden in England by Julia Kelly
This is a historical fiction novel which moves across three time periods and the lives of five women who are all connected by one special English garden.
May The Sweetness of Water by Nathan Harris
Towards the end of the Civil War, two enslaved brothers leave their owners plantation in search of a free life during the reconstruction era. One of President Obama's favorite books.
June The Storied Life of A.J. Fickry by Gabrielle Zevin
A two year old girl name Maya is abandoned in the book store of a grumpy old man and changes his life.
ABOUT THE OUUC ADULT FAITH DEVELOPMENT PROGRAM
OUUC's adult faith development program offers a wide range of classes to help members and others in their spiritual development and in a broad variety of life skills, as well as to increase knowledge in specific areas, or just to have fun. The Adult Faith Development Team reviews ideas for classes, finds and assists instructors, and publishes seasonal catalogs of the class offerings with the goal of supporting Lifelong Learning.
We welcomes offers to lead future classes from members of the broader community as well as from the OUUC congregation. Please direct proposals or inquiries to the OUUC Office (dre@ouuc.org / 360-786-6383), or contact a committee member. A member of the committee will contact you and guide you through the process of setting up your class.