We have a variety of programs for adults planned this year! Join us for monthly Study/Action Circles, Book Group, Sunday Forums, and Classes.
Current Classes:
Fourth Thursdays 6:30-9 pm , on Zoom
(No registration required)
OUUC 2022-2023 Book List
March 23 – Man's Search for Meaning by Victor E. Frankl
April 27 – Becoming Nicole: The transformation of an American Family by Amy Ellis Nutt
May 25 – The Violin Conspiracy by Brendan Slucomb
June 22 – Intimacies by Katie Kitamura
If you are interested in being on our mailing list or receiving the Zoom link, contact Nancy Brickell or Pat Sonnenstuhl. Use the contact us form if you don't have their information.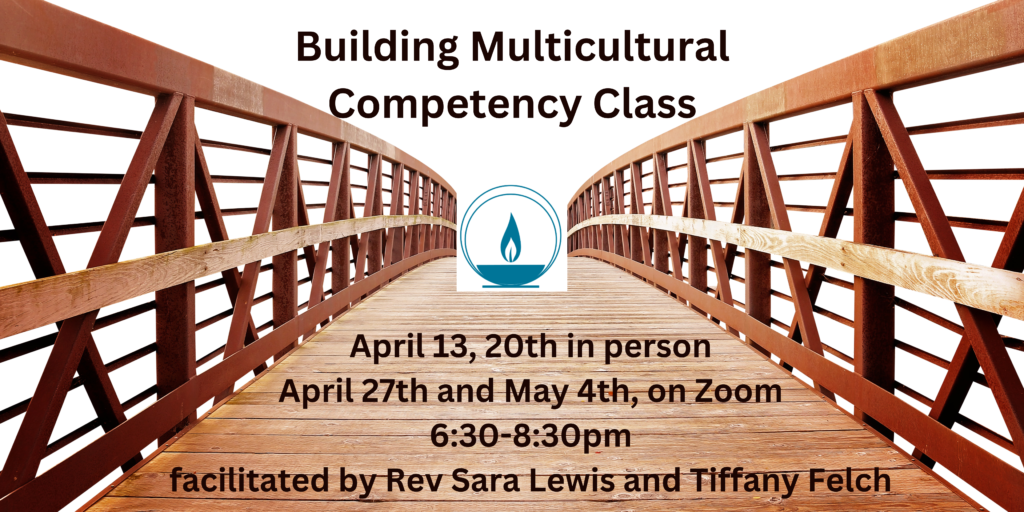 A 2 session class focused on the call and the practice of multicultural competency in our personal and congregational lives. Facilitated by Rev Sara Lewis and Tiffany Felch
This class will be offered in person and then again online. Choose ONE option (Either in person Or zoom) that is right for you.
Thursdays 6:30-8:30pm
In person April 13th and 20th: Register Here
On Zoom April 27th and May 4th: Register Here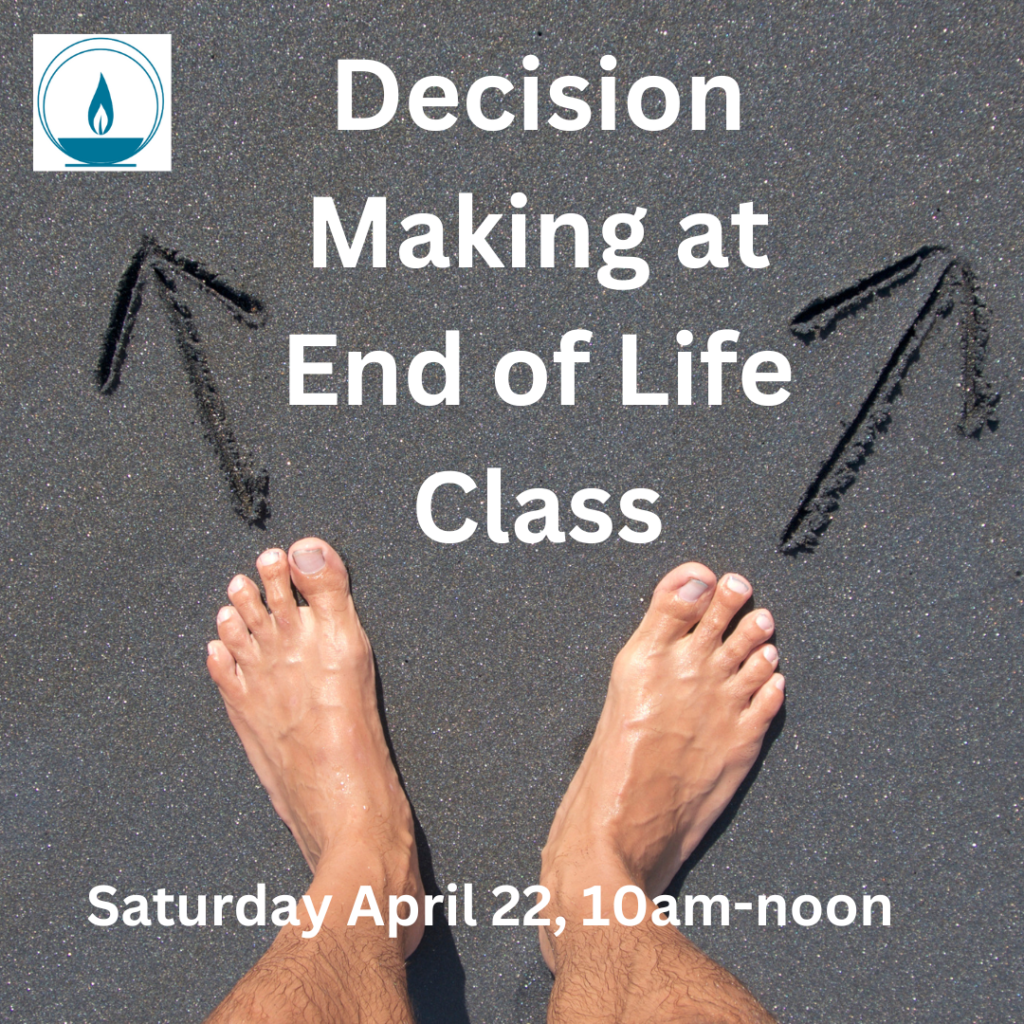 Presenters: Ann Yeo and Susan Kirkpatrick
The registration deadline is Wednesday, April 19.
The class size is limited to 15 people. In-person at OUUC.
With the availability of modern medical care, many of us live longer and healthier than previous generations did. However, modern medical care sometimes prolongs the duration of life longer than the quality of that life. Common medical interventions – such as CPR, ventilators, feeding tubes and intravenous hydration – may be used even for terminally ill persons, without any real benefit in extending the quality of life. Drawing on the work of the Rev. Hank Dunn – a health-care chaplain who wrote Hard Choices for Loving People – this class will help us to consider choices we may have to make for our loved ones and for ourselves.
There will be a summary of the legal documentation necessary to express our wishes for medical care when we are terminally ill, or when there is no hope of regaining what we consider to be an acceptable quality of life.
There will also be a discussion of OUUC's Personal Care and Support Record, which can be filed with the church office.
Ann Yeo and Susan Kirkpatrick both are members of OUUC. Ann is a Registered Nurse and a Certified Holistic Nurse. Susan is a licensed attorney.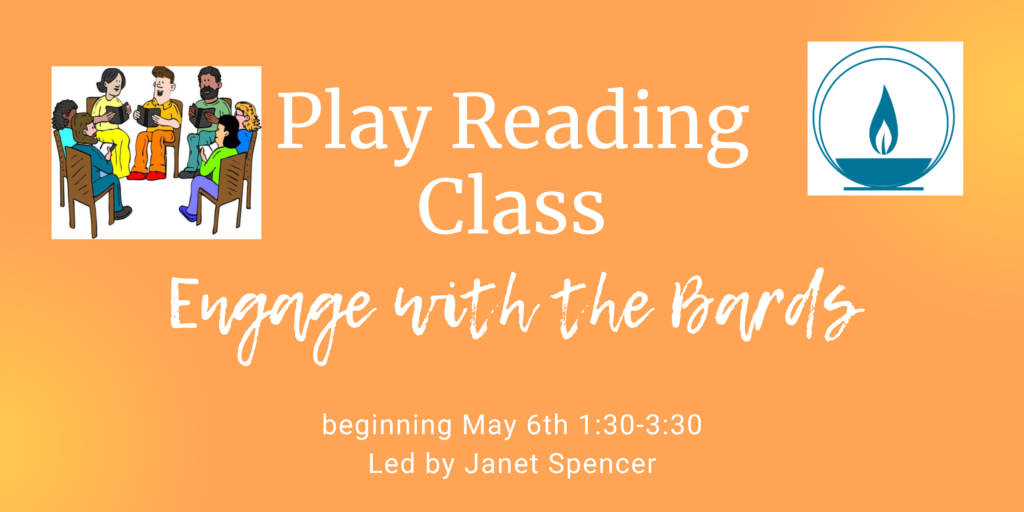 Engage with the bards–
Join Janet Spencer for a Play Reading class starting Saturday, May 6th from 1:30 to 3:30 PM at OUUC.  Plays are meant to be spoken – or at least read aloud.  And you don't have to be an actor to do so. This group will read plays aloud with literary and/or spiritual content.  For the present we'll stick to plays by American writers, such as Arthur Miller, Tennessee Williams, and Neil Simon.  Even comedies can be meaningful.  We'll start with "The Sandbox", a short play by Edward Albee; Janet has several copies.  Hopefully, the plays we read will stimulate discussion – intellectual and emotional.  The group is open to people who want to read, and to others who want to listen.  Janet is ready to go and "hopes this will inspire people to join and participate."  Contact Janet with questions. Join us as you can over the summer, but we'll start with Registration.
ABOUT THE OUUC ADULT EDUCATION PROGRAM
OUUC's adult education program offers a wide range of classes to help members and others in their spiritual development and in a broad variety of life skills, as well as to increase knowledge in specific areas, or just to have fun. The Adult Education Team reviews ideas for classes, finds and assists instructors, and publishes seasonal catalogs of the class offerings with the goal of supporting Lifelong Learning.
Registration for classes is open to all members and friends of OUUC and members of the larger community. To help us keep these offerings sustainable, we suggest a donation of $10 for a single session class, and of $20 for a longer course. The Pandemic has limited our ability to offer the many types of classes we have in the past, but we are always interested in your ideas.
To reduce the chance of class cancellations because too few people have signed up, please register at least a week before your class begins. Click on the title of the class you would like to take, and you should arrive at the Registration Page. Please contact us if you have problems.
Unless otherwise noted, all class leaders are members of the OUUC community who generously contribute their expertise, time and hard work to develop their course material, completely gratis. Please make every effort to attend all sessions of each class for which you have signed up, or let the class leader know ahead of time if you can't attend. Newcomers to OUUC can find classes relevant to this faith tradition marked with a chalice logo.
The Adult Education Team welcomes offers to lead future classes from members of the broader community as well as from the OUUC congregation. Please direct proposals or inquiries to the Adult Education Team, c/o the OUUC Office (dre@ouuc.org / 360-786-6383), or contact a committee member. A member of the committee will contact you and guide you through the process of setting up your class. Current members are: , Julie Rosmond, Linda Selsor, Gary Worthington (Chair), and Sara Lewis (Staff).