Last Saturday, I was honored to participate in a Leadership Charge organized by Sara Lewis, our Director of Community and Faith Development.  About 20 OUUC leaders gathered on Zoom to reflect on what makes a good leader, the leadership qualities we want to develop this year, and what we'd like in order to feel supported this year.   
Thanks to all who participated!  Sara will take it from here with a summary of our afternoon work.  Thank you, Sara!
Blessings on your week.
Rev. Mary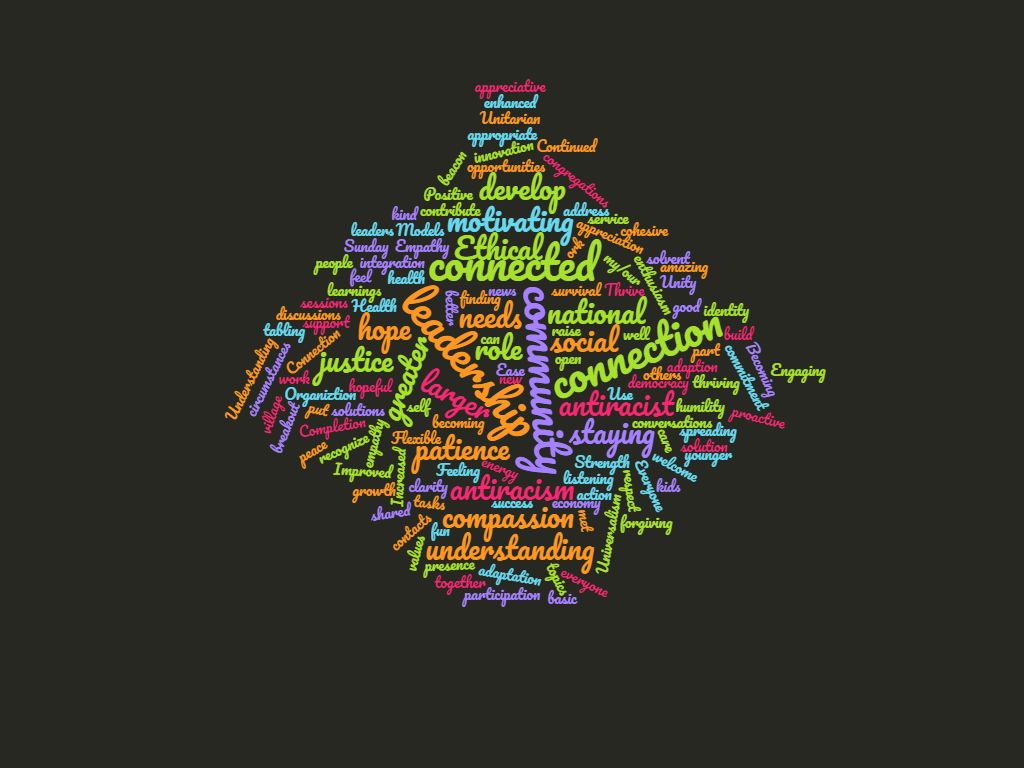 As we are all headed into this new program year with all of its challenges and changes, it was a good time to gather congregational leaders together to explore our hopes and dreams, our challenges and fears, and what leaders need in order to be equipped for this year. A wonderful group of leaders gathered on Zoom, giving up part of a Saturday to do this work together.
Here are the hopes and dreams that came from that work:
Of course, there are also many fears for this year. How could it be otherwise when we are in a global pandemic, facing a crucial time in our nation's democracy, and coping with climate chaos and its various symptoms? These fears cannot be lightly set aside, and there are no easy pat answers to them. But I believe we must acknowledge the weight of them all, especially as we try to make plans for what we can do to reach those hopes and dreams.
And there are many challenges. How do we make sure we stay connected and engaged even as we are remaining online? How do we ensure the health and safety of our community? What will a hybrid church be like and how do we do that? Will we be able to financially support our mission? How do we engage as anti-racists? How do we raise awesome kids? Create a multi-age community and engage with younger people?
I heard needs expressed as well, and now comes the fun part for me: making plans for how we can support the growth and the good works of all our people. I'm making a summary list now of what resources, training, and other support would be useful this year. So if you weren't able to attend the leadership workshop last Saturday, now is a great time to reach out to me with any feedback. What would be on your list? What support do you wish was provided for your growth and good works? For your teams and committees? For the congregation as a whole? For the larger community? Email me at faithdevelopmentministry@ouuc.org.
Sara Lewis