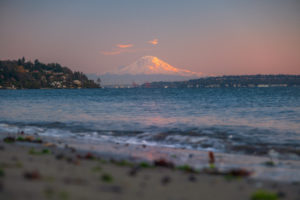 On Thanksgiving Day, about 20 of us from OUUC gathered on Zoom to mark the day, because that's what we do these days. I lit a chalice, because that is also what we do, with the land acknowledgement created by the Learning Right Relations group: 
We acknowledge that this land and water is the traditional territory of the Steh-Chass people. The Steh-Chass people are of the Squaxin Island Tribe. 
The surrounding mountains, valleys, shorelines, and waterways are imbued with their presence.  
We seek to nurture our relationship with our Coast Salish neighbors and our shared responsibilities to this place, their homelands, where we mutually abide.  
I began with a land acknowledgement to recognize that Thanksgiving Day has an origin story and mythology that is false and harmful. This is a day of mourning for many Indigenous people who push back on the story that we tell of pilgrims and "Indians" sharing a meal in colonial days.  
That mourning may take on new meaning for those of us who are not indigenous as we collectively mourn this Thanksgiving weekend. There is much to grieve: the dismantling of stories that we were told were true and that we must let go of; the loss of life to the novel coronavirus world-wide; the loss of our personal and collective holiday traditions. Perhaps most of all, many of us miss the opportunity to gather in person with family, friends and neighbors, this day in particular. 
This Thanksgiving weekend, I find myself reflecting on the complexity of Thanksgiving Day and of this time. The historical origin of Thanksgiving is that it was declared a national holiday by President Lincoln in the waning days of the Civil War as a boost to citizens whose spirits were weary and who were grieving so many losses. A war started by southern slaveholders who wanted to maintain the power and right to own and exploit people they deemed less than and fought against by those who believed that all are created equal. Lincoln declared this day to help us remember that amidst the grief, there is room for gratitude. * 
Grief and gratitude. The complexity of both–and.   
In our gathering we virtually shared what we are grieving and what we are grateful for. We grieved so much, and especially not seeing those we love in person this holiday.   
During that sharing, my husband shared that he was grieving the loss of his brother, Danny, who died by suicide about 5 years ago. John was feeling this loss especially acutely; grief has a way of sneaking up on you, especially during the holiday season. Times that are "supposed to be" happy are much more complex than that. ** 
And there was much that we were grateful for: this community, family and friends, health, work, the chance to help others, shelter, first responders, and the scientists making vaccines. There are many blessings in our lives.   
So, this weekend, I invite you to notice what you are grieving. Where does grief reside in your heart and what is there this season?   
And notice what you are grateful for. It may be under the grief, or next to it, or behind it, or even surrounding it.  Where does gratitude reside in your heart and what is there this season?  
This Thanksgiving, may we hold all that we miss, all that we have lost, all that we mourn. May the love of community help us carry the tender places in our hearts, our individual hearts and the heart of our community and nation. May we find places of gratitude in our hearts and in the heart of our nation. May we notice moments of blessing and of grace for ourselves and for others.   
Blessings on your week. 
Rev. Mary 
*For more information about the history of Thanksgiving Day, see Heather Cox Richardson here.   
**We will offer a time to hold this complexity on Thursday, Dec. 10 as Rev. Carol McKinley, Rev. Eric Ness, and I hold a "Blue Christmas" vespers service at 7 p.m. (Elvis not expected.)