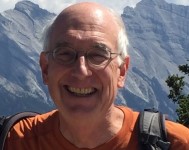 Originally from Minnesota, but growing up in Bellingham, Jeff Goltz started
attending OUUC with his wife, Mary Welsh, about 30 years ago when it was in
Tumwater. Over the years, Jeff previously served on the Board, taught RE,
coordinated or worked on numerous Stewardship Campaigns, served as
auctioneer at the OUUC auctions, and coordinated (coached is not the word)
the OUUC softball team in its loss to the Temple Beth Hatfiloh.
Now a retired attorney, Jeff spent most of his career in the public sector,
including two years working on Capitol Hill in Washington, D.C, 30 years in
the Washington Attorney General's Office, primarily in environmental and
energy law, and 6 years on the Washington Utilities and Transportation
Commission. After flunking his first effort at retirement in 2015, Jeff joined a
law firm, working parttime primarily in the energy area, representing energy
service and recycling companies as well as various public interest groups,
retiring again, this time finally, in 2021.

Jeff and Mary have three adult daughters living in Portland, each of whom
benefited from growing up under the influence of OUUC. Mary and Jeff enjoy traveling and getting lost on long hikes in far-away places.