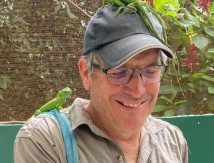 Hello OUUC members and friends!
My name is Joe Joy. I use he/him pronouns. I am honored to be asked to fill a 2yr term on the OUUC board. I was born and raised as a Catholic in northeast Seattle in a working middle class family. I met my wife, Susan, at Evergreen in the mid-1970s where we both graduated and were married by a UU minister (Rev. Patrick Thomas Aquinas O'Neill) in 1979. Susan and I have been members since the mid1980's. We joined the UUFO in Tumwater because our daughters were curious about "God" and religion. We thought a more universal and unbiased discussion would be found at UUFO. We were not disappointed, and neither were they. Rev. Donna DiSciullo called us up shortly after we joined and volunteered me for the Worship Committee. Since she was a quarter time minister, our duties involved planning, creating, leading, and "balancing" worship services. I was very happy that I had already started Toastmasters to improve my presentation skills at my day job with the Washington Department of Ecology.

After we moved OUUC to the current location, I worked in the Religious Education Program as a teacher, committee member, and committee chair. I also served on the Building and Grounds Committee and now serve on the Environmental Action Team (EAT). I'm the "Bulbs and Batteries guy" and "Warm Window guy". I am also one of the bass voices in our choir. Susan and I continue to believe in the community and work of OUUC. We've made many friends there and we have become more active now that we are both "untired". I hope to be a positive and collaborative presence on the Board.