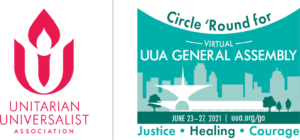 This year's General Assembly (GA) of the Unitarian Universalist Association will be entirely virtual, making it highly accessible for all of us. General Assembly is the annual meeting of the association, and is part governance, part social witness, part learning opportunity, and part celebration. There are business meetings, votes to be made, workshops, and fabulous worship services.
Attending a General Assembly in person is a fun and exhausting affair, walking quickly between conference center rooms to get from one workshop to the next, carrying around all the fun stuff bought in the exhibit hall, and running into people I know in the hallways and stopping for a brief chat. Much of that is missing when we go virtual, of course.
But last year's virtual GA surprised me with some new joys: morning worship in my pajamas, lively chat streams during business meetings, quality workshops over zoom, and engaging lectures I could bring with me into the kitchen as I cooked dinner. If you want to check it out, you can still access some of the 2020 GA here: General Assembly 2020 Online Events for Public Viewing | UUA.org
With one completely virtual GA under their belt, I am sure the planning team is putting together an even more impressive offering for this year. I'm looking forward to participating!
Anyone can attend the General Assembly (GA), but to be a voting delegate for OUUC you need to be a member of the congregation. Registration is $200 for the week, and you can volunteer for a partial registration waiver. Learn more and register here: General Assembly: The Unitarian Universalist Association's Annual Meeting | UUA.org