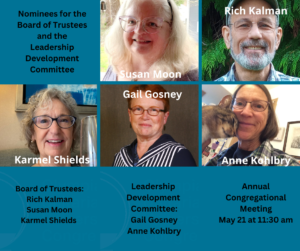 Nominees for the Board of Trustees and the Leadership Development Committee
BOARD
Rich Kalman
Rich and his wife, Ann Rockway, began attending OUUC in 2010 after participating in adult education classes. They became members in 2012.
Rich taught in the Olympia School district for thirty years before starting an independent educational consulting business focused on student achievement in science. In 2018 Rich and Ann sold their home of 40 years and traveled in their RV before settling into the Panorama Community. Rich enjoys gardening, kayaking, cycling, hiking, and learning to play jazz piano.
Rich has served OUUC as a member of the Buildings and Grounds team, instructor for the Membership Class, RE teacher, and a Spirit Circle facilitator. He participated on the Vision and Mission Writing Team. Rich currently serves on the OUUC Board as Secretary. He would consider it a privilege to serve a second term.
Susan Moon
My wife Sam and I moved to Olympia in March of 2019 and joined OUUC later that year. We have particularly enjoyed Trunk-or-Treat every year, I was on the Stewardship Committee, and am an active and appreciative member of the Ladies Unitarian Social Hour (LUSH) community on Tuesday afternoons. I have been sending out the LUSH invitations every week via email as a way to give back to the group that helped me so much during the pandemic. I've also done a tiny bit of help with the LUSH contributions to the auction.
Karmel Shields
Karmel Shields has been an active OUUC congregate since 2010. She has served on several committees including Faith in Action, LDC, and Stewardship. Karmel retired four years ago from working in the public sector as a human services lecturer, planner, and program manager. She lives in Olympia with her husband Gregory and little dog Toby. Karmel has two grown children and one perfect granddaughter!
Leadership Development Committee
Gail Gosney-Wrede
Gail Gosney Wrede has lived in Olympia for 30 years and has been a member of OUUC for 30 years as well.  She became a Unitarian Universalist in the mid-1980's. Gail worked in non-profits and government human services during her career, focusing on program development for child and family services and law and justice.
At OUUC, Gail has been a member and chair of the RE committee, served on the Board of Trustees (Board Chair in 2013), the Pastoral Care Committee, the Endowment Committee, the Stewardship Committee, the Memorial Services team, Worship Arts, Strategic Planning, and the Auction Committee. Unitarian Universalism has served as the foundation for Gail's social services work, her commitment to community service and involvement, and her foundational belief in democracy and active citizenship.
Anne Kohlbry
Although raised in a UCC church in Minnesota, nature became Anne's primary sanctuary as an adult.  She also explored Eastern spirituality and yoga, meditation, and a variety of congregations.  In 2007 she found OUUC, excited that all spiritual traditions are valued as sources of truth and meaning and that that inclusivity applies to all–"we don't have to think alike to love alike." She is grateful for opportunities to learn and grow with each other through classes, small groups, and programs that serve the larger community.
Since joining in 2014, Anne has enjoyed teaching new member and RE classes, serving on the welcome and hospitality teams, and Full Moon meditations planning. She currently contributes to the Worship Arts Team, Caring Friends, Stewardship Team, auction, and Books, Brownies, and Beans.