Zazzle
Have you always wanted a mug, hoodie, button, or t-shirt to proclaim your excitement about OUUC? Check out our Zazzle Store today!
Amazon
Do your shopping through AmazonSmile. Just choose Olympia Unitarian Universalist Congregation as your charity! We will earn a .5 percent commission on your purchase.
Browsers Bookshop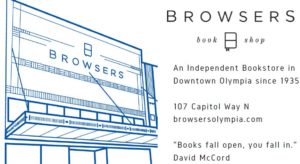 Local Bookstore Supports OUUC Year-Round
Olympia, Wash., December 2019 — Proudly local and independent "Browsers Bookshop," 107 Capital Way N, has made an extremely generous and substantial commitment to help support OUUC all year long, stocking a special new section of titles of interest to UUs and pledging donations based on sales that are much more significant than those offered by online vendors.
It starts with Browsers creating and stocking an entirely new special section to showcase books by the two UU Association publishing imprints, Beacon Press and Skinner House. Browsers is ordering over 300 books from these presses to start off and will create a special display area for these books in the store so they are easy to find.
But wait, there's more. Browsers is also encouraging UUs and friends to Shop Local with a much bigger donation percentage to OUUC than the online vendors offer.
First, whenever anyone buys any of these Beacon/Skinner House books (with the exception of a very few authors that Browsers already stocked deeply before this program began), Browsers will donate a gigantic 30% of the sale price of the book to OUUC.
Second, whenever anyone identifies themselves at the checkout (before paying!) as an OUUC member or friend and says "I want my purchase to count for OUUC," Browsers will generously donate a full 10% of the entire purchase (not including gift card purchases) to OUUC. This includes everything in the store except for gift cards.
Browsers' generous support means that OUUC members and friends can support local jobs and a values-based local business while supporting OUUC all year round.