We understand that a new church can be intimidating your first time.
Even though OUUC is a very welcoming church, we understand that sometimes nerves can hold us back. Let's help make your first visit worry-free.
Sunday services happen at 10 AM on Zoom and in-person at OUUC.
You can find specifics about this coming Sunday on the Worship page.
Olympia Unitarian Universalist Congregation
2315 Division St NW
Olympia, WA 98502
Phone: (360) 634-2005
Where do I go when I get there?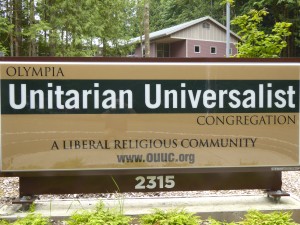 As you're walking into the building, members of our Hospitality Team will be there to greet you and show you where to find the sanctuary, restrooms, religious education classrooms, and nursery. If you need anything throughout your visit, feel free to stop by the Newcomer's Table or ask a staff member or volunteer. We're a friendly bunch and our job is to serve you!
What do you do for kids and youth?
Children of all ages are always welcome in the worship service, and there is also almost always nursery care available for infants-5 year olds. A greeter can help you find the nursery, where you will need to sign your child in for care, but pre-registration is not required. Information about our other programs for kids and youth is available here.
At our Sunday service, you can expect:
Each service to last about an hour.
Thought-provoking and engaging messages.
High-energy worship music.
Fun experiences for your kids.
Coffee, tea, and maybe a snack after service.
That's it! You are now fully prepped to visit OUUC. Pick a date (we are here 52 Sundays a year) and come join us. Seriously, we can't wait to meet you!
For those who want to know more before your first visit:
Testimonials; Why OUUC is My Spiritual Home
Soul Matters and Covenant Circles