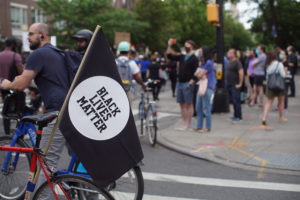 The Washington legislature started meeting this week to do the people's business. Despite protests, the first-ever all online session began on Monday. This is a long session, meeting through April 25, with many bills and the biennial budget on the table. Just like at OUUC, the budget is the way we put our values into action, how we put our money where our mouths are.   
Advocacy is also one of the ways that we put our faith into action. Advocacy is the act of publicly speaking on the behalf of or in support of another person, place, or thing. The legislative session is a great place to practice advocacy. There are many bills up for consideration addressing poverty and food security, policing and criminal justice, housing, environmental justice, human rights, health and mental health. Each of these is an area that UUs are called to advocate for.  
It can seem overwhelming to pay attention to all that is before us and all that needs to be done. The good news is that we don't have to do it all. There are many partners out there doing good work that we can join and support. Just pick one—one partner, one cause, one bill. 
That's my plan with the legislative session; I'm going to pick one bill—just one is the hard part—and give it my attention and support. If it doesn't make it through the session, I'll pick another. That's one thing I can do to put my faith in action.   
Below I am going to list some organizations that I know of and follow. I know that many of you could add others. My go-to organization for the legislative session is the Faith Action Network (FAN) in Washington. I count on FAN for clear and helpful information and guidance.  They have Lobby Days coming up in the month. I plan to attend and encourage you to do so, too.   
OUUC has a long history of putting our Unitarian Universalist faith in action. That continues today, although it may look different as we go forward. The needs of the world and the needs of the community change over time. For more information about Faith in Action at OUUC now, join Sara Lewis and I for the Q&A after the Coffee Chat on Sunday.  
We don't have to do it all alone. Just pick one thing and let the world know that this is what faith looks like. And, for more inspiration, click out the link below that takes you to Aretha Franklin singing "Never Gonna Break My Faith." 
Blessings on your week.  
Rev. Mary  
Local 
Thurston Climate Action Team (TCAT) 
Showing Up For Racial Justice (SURJ; Olympia chapter) 
State/Region 
JUUstice Washington (UU Justice Network) 
National