This past Sunday we celebrated the beginning of another congregational year with our Water Communion ritual. It was the first OUUC outdoor service. It was the first time a larger group had gathered for worship at OUUC in 18 months. And it begins my third year of serving as your minister. 
The Tech Team was amazing this past Sunday-thank you! When Mike Kyer, Jo Sahlin and Troy Fisher met to test things out, Mike recorded their activities, and used a time lapse app to share it. Check it out. 
The ritual of sharing our water is a powerful one. We bring water from our individual lives and share it to create our community. Many of you shared something about your water in the chat, on a paper water drop, or in conversation s you drove through. Here's a sample: 
Places:
Home, which is now part of community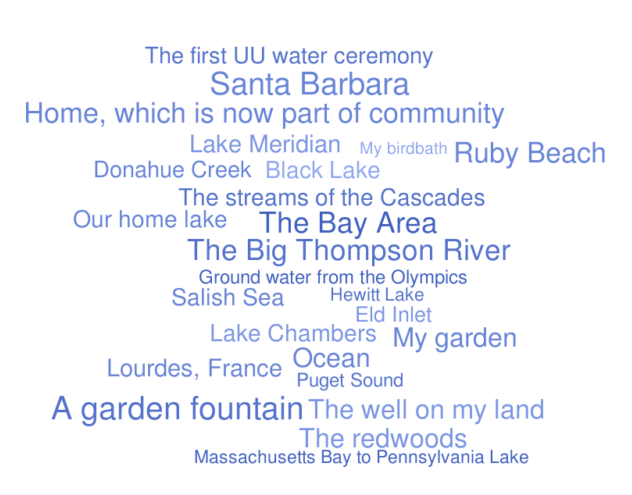 Lake Meridian
Lake Chambers
The Bay Area
The well on my land
My garden
Santa Barbara
Puget Sound
The streams of the Cascades
Ground water from the Olympics
The Big Thompson River
Hewitt Lake
Black Lake
Eld Inlet
Ocean
Salish Sea
The first UU water ceremony
The redwoods
My birdbath
A garden fountain
Lourdes, France
Massachusetts Bay to Pennsylvania Lake
Donahue Creek
Ruby Beach
Our home lake 
People and Transitions: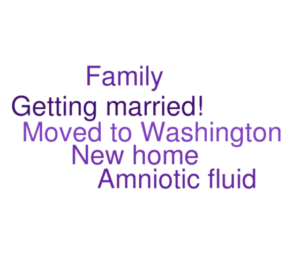 Getting married!
New home
Moved to Washington
Amniotic fluid
Family 
Feelings:
Gratitude to the Earth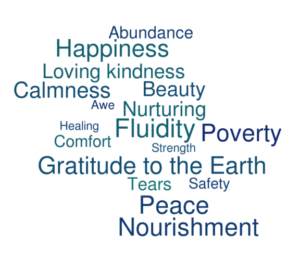 Nurturing
Fluidity
Tears
Strength
Beauty
Poverty
Peace
Comfort
Calmness
Awe
Loving kindness
Safety
Happiness
Abundance
Nourishment
Healing 
Last, at the end of the water communion, when all had shared their water in person, online and at the drive-through, I returned most of the water to the land. A small jar of water sits on the windowsill in my OUUC office waiting for next year.  
Thank you all for sharing your individual water; together we make streams, rivers, oceans of community. 
Blessings on your week, 
Rev. Mary