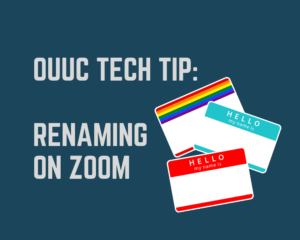 There are many reasons you might need or want to edit your name when you're in a Zoom meeting. Perhaps you want to include a family member's name when they join you for Sunday service. Maybe you accidentally logged in with a partner's account. Or, you might be trying to include your pronouns with your name. (Read this article by Sara Lewis for an explanation about why including pronouns is so helpful.)
Luckily, it's very easy to change your name in a Zoom meeting!
There are two ways of editing your name if you're using Zoom on a computer:
Method #1:
If you're looking at all the boxes of people in the meeting, find the box with your face in it.
Hover over it with your cursor, and locate the little blue button in the top right corner of your box that has three dots (…) in it.
Click on the "…" button, and a drop-down menu will appear. One of the options in the menu is Rename.
Click on "Rename", and you can change your name and add pronouns there.
Method #2:
The bottom of your Zoom screen has a bunch of buttons or icons. This is where you find the chat button, the "CC" button to change your captions, and a few others.
Click the button on the bottom menu that says Participants.
In the sidebar that comes up on the right side of your screen, find your name and hover over it. You'll see a blue button that says "More >"
Click on "More >", and you'll see the Rename option.
Mobile or Tablet:
Tap on the Participants button at the bottom of your screen.
Find your name in the list that comes up, then tap on your name.
A couple options will pop up, one of which is "Rename."
Tap on "Rename" and make edits as needed.
That's it!
You can always email Jo Sahlin, OUUC Media Specialist, with any questions, comments, or ideas for future Tech Tips. Or drop in to Jo's office hours on Thursdays at 11 a.m.