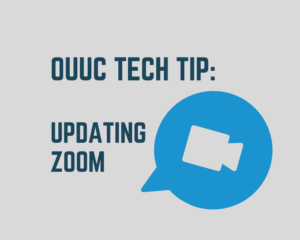 Do you know whether you're using the most recent version of Zoom? Do you know how to check? For this week's Tech Tip, let's walk through how to ensure your Zoom app is up to date.
Zoom releases updates of its software on a weekly or near-weekly basis. Sometimes the updates consist of behind-the-scenes fixes that might not seem like they make a difference to your experience. Other times, Zoom releases updates that change what we do and how we use the program. For example, a recent update included automated closed captioning. We now enable this feature during all Sunday services!
Whether you notice the differences with each update or not, it is important to consistently update Zoom on your computer or other device. Using the most updated version of Zoom helps ensure you are experiencing the best features Zoom has rolled out, but it also reduces the chances you will experience bugs or glitches when you're using it. And finally, because Zoom tends to prioritize security measures in each of its updates, using the most recent version will also increase your safety and the safety of your device.
If you tend to use Zoom on a tablet or smartphone, your device probably has auto-updates turned on. You likely won't need to worry about manually updating the Zoom app, but you can double check by going into your device's app store and looking for updates.
Instructions for Updating Zoom:
Open Zoom on your computer.

Click on your picture/icon in the upper right corner and select "Check for updates" in the drop-down menu.

Click the "Update" button on the next screen. A progress bar will pop up once the update starts.

If this window doesn't appear, you probably already have the most recent version of Zoom!

(Mac only)

Select the "Install" button on the next screen and click through the installer to complete.

Restart your computer to ensure the updated version of Zoom starts the next time you run it.

Check for new updates weekly,

before Sunday services!

If you encounter any problems through these steps, contact Jo Sahlin, OUUC Media Specialist: mediaspecialist@ouuc.org
Click on the graphic below to enlarge and see screenshots for help: